The Green Year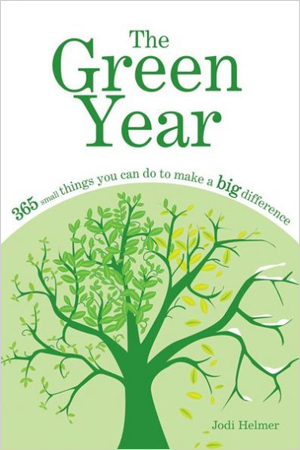 Imagine an entire year of living green.
Not only would you reduce your carbon footprint by a massive amount, but you could probably inspire others to do the same.
Jodi Helmer's book The Green Year gives you 365 small, inexpensive things you can do to make a big difference in saving the planet and making your home more eco-friendly.
The book features a frugal tip for each day each day plus a space where you can write suggestions that are more practical for your lifestyle. In addition, there's a place for you to check off each action, so there's no losing track of your place on your "green adventure."
Whether you do the tips on the designated days or when it's convenient for you, The Green Year gives you an easy-to-follow green guide that you can refer back to anytime during the year — and years to come.
All it takes is lots of little changes to make a really big difference. Go ahead and do your part, starting today.
Here are 52 inexpensive ways to go green

1
Don't heat an empty house! During the winter, turn down your thermostat to 68 degrees F when you're home and 55 degrees F at night and while you're away.
2
Your computer may go to sleep, but it's still sucking up energy. Turn your computer off at the end of the day. In addition, take steps to create an eco-friendly workplace.
3
Clean your refrigerator coils — vacuum out the dust and wipe with a damp cloth. You'll be surprised at how much nasty stuff accumulates down there!
4
Look into carpooling. Need convincing? Read why your green commute will save you money.
6
Add your fireplace ashes to your compost pile.
7
Support green businesses.
8
Cancel your newspaper subscription and read the news online instead. (We'll bet you're already doing this one!)
9
Buy rechargeable batteries. Learn to dispose of old batteries properly.
10
Use cloth napkins instead of paper napkins at dinner. Consider serving fair-trade wine.
11
Recycle — all the cool kids are doing it these days! Not sure what is recyclable? Check out this recycle chart.
12
Buy your dog a hemp or canvas leash instead of nylon.
13
Stop throwing away your dryer lint! Put it in the backyard for the birds — they use it to feather their nests.
14
Share your magazines — read them then pass them on. Goodwill, the Kidney Foundation and other used goods collection agencies will usually accept them. You can also pass them along to a doctor's office for the waiting room.
16
File your taxes electronically to cut back on paper usage. Look into having your tax forms emailed to you instead of mailed as well.
17
Donate old newspapers to animal shelters and take your plastic shopping bags back to participating grocery stores. Better yet, purchase cloth or canvas grocery bags and skip that part altogether.
19
Take your own mug to the coffee shop — some shops will even give you a discount for bringing your own cup. Find out if your coffee is triple certified.
22
Schedule your errands back-to-back to consolidate your trip and save gas or ride your bike or walk when possible.
23
Repair your leaky faucet (especially if you live in a drought-prone area), then follow these five ways to dress your nest green. Not only will the earth thank you, but so will your wallet!
24
Pack your lunch in an insulated lunch bag instead of paper or plastic bags. While you're at it, make organic meals and try out new green recipes with these simple eco-friendly recipes.
25
Put a cover on your pool when you're not using it. Not only will it keep the water cleaner, but it will keep it from evaporating, saving you refills.
26
Start a compost pile in your backyard. Here is your guide to compost gardening.
28
Get the junk out of your trunk (literally!) — extra weight in your car decreases fuel efficiency.
29
Have a yard sale — or visit one before you head out to buy something new.
31
Pick up litter as you're walking around. You didn't get to enjoy the $5 latte, but you get to know you put the cup in the recycle bin for free.
32
Take the stairs instead of the elevator (great for the environment and your health).
33
If you have a baby, use cloth diapers instead of disposables.
34
Buy used or e-books instead of new.
36
Buy a bigger jug of milk. If you only use half a gallon at a time, you can pour half the milk into a carafe and freeze the rest.
37
Use compact fluorescent, LED or halogen bulbs instead of conventional incandescents.
38
For your kids, buy crayons made of soybean oil, not paraffin. For your babies, try eco-baby shops.
39
Wear an extra sweater or use a blanket before you resort to turning on (or up) the heat.
41
Call a mechanic to get a tune-up for your car to avoid excess wear and tear on your automobile, saving money on gas and ensuring your vehicle runs cleaner.
42
Pay your bills online (and opt for paperless billing) to reduce paper usage and postage costs.
43
Switch to a manual can opener. It's really not that complicated!
44
Buy a refillable container for your water or morning coffee instead of using paper cups or store-bought water bottles. Buy one with a built-in filter to avoid tap water instead of purchasing bottle after bottle of "spring water."
45
Get out your rake and leave your leaf blower in the garage to cut down on emissions (not to mention get a good workout). Check out these other ways to eco-friendly fitness.
46
Switch to Energy Star-qualified appliances when you upgrade. Even if they cost a little more, they'll actually save you on your electricity bill in the long run.
48
Use chlorine-free feminine hygiene products, or try products like the menstrual cup.
49
Ask dinner guests to bring reusable to-go containers with them (or keep inexpensive ones you don't mind losing on hand) so you can easily pack them some goodies to go home. (Think about cooking a couple of vegetarian holiday dishes, too.)
50
Invest in a roasting pan instead of using disposable ones (you'll save money in the long run and it's a lot easier to pull a full ham or turkey out of the oven in a sturdy pan than an aluminum one).
51
Planning a party or wedding? Hire green vendors and go with natural decorations when possible. If you'd like to make a statement with your nuptials, plan a green and organic wedding.
52
Make a resolution to be even more eco-friendly next year. Here are 21 more ways to go green.